Summer camp 2024
Parent Information
On this page you will find all kinds of valuable information about summer camp including a what to bring list as well as all kinds of information about the steps we take towards making summer camp a safe and fun place and all kinds of information about the benefits of summer camp.
If you have questions or just want to give us feedback, please feel free to contact us!
Info for Campers
Camp registration runs from 4:00 till 4:30pm Sunday. Camp ends 6:00 pm Friday. We dont do any specific closing program but we encourage parents to ask our leaders about the week and we will post highlights on social media. 
Please do not arrive more than 30 min prior to registration. There is no advantage to arriving early, as all the staff will be in a meeting making last minute preparations. Campers need to be accompanied by a parent or another adult as they register.
What to Bring
Sleeping bag & pillow
Bible (if you have one)
Clothing for rain & sun
Toiletries & P.J.'s
Bathing suit & towel
Rainwear
2 pairs of running shoes (You NEED shoes not just sandals or crocs)
Sandals or crocs
Bug repellent, sunscreen
Hat
Water bottle!

(NEW) We will be doing a weekly waterfight, feel free to bring a watergun/ squirt gun from home. (this is not required just an option)
Dress up clothes for Theme Meals
Theme Meals are fun crazy meals where everyone gets dressed up, feel free to be creative. Theme Meals are completely voluntary and vary depending on age group or camp registered for. You will be notified of theme meals in an email and this page will be updated before registration opens. 
What not to bring
Electronic games
Cell phones, mp3 players and iPods, iThis or iThat
Gum or sunflower seeds
Food (except for medical reasons)
Pocket knives
Please only bring modest bathing suits (guys and girls)
Our Camp Store will be open at registration time and after the closing program. We have your camp souvenirs and cool camp clothing with items from $2 and up, get a wristband, t-shirt, hoodie and more.
Note about White Water Rafting: If you have signed up for White Water Rafting you will need to download a waiver form that must be signed by the participant's parent or guardian and mailed back to the camp or submitted at the time of camp. Without this waiver with the proper signatures the camper will not be able to participate.
Note about Paintball: If you have signed up for this activity you will need to download a waiver form that must be signed by the participant and participant's parent or guardian and mailed back to the camp or submitted at the time of camp. Without this waiver with the proper signatures the camper will not be able to participate. If you are paintballing you must be 12 years of age at the time of camp to participate.
Here are a couple of links to our association sites' parenting pages
10 Reasons to send your child to a Christian camp
Overcome the "Nature Deficit Disorder"
Whether camping in tents and cooking over a fire on an out trip, or sleeping on bunks in a heated cabin, camp mostly takes place outdoors, in the woods, on the water, and involves lots of physical activity.
Un-Plug
Kids lives, activities, and social interaction is increasingly centered or facilitated by electronic devices. Camping gives them a chance to rediscover the real world beyond the video screen and activities not initiated by a key pad.
Live in Community
Living in the community of a cabin or tent group under the influence of a counsellor for a week provides the format for life-long relationships through the shared experiences of camp life.
Learn to Work as a Team
Team games, team competition, activities that require a partner, like canoeing, sailing, "rock" climbing, gives kids the opportunity to work together in the pursuit of a common objective, and form the bonds that result from working closely together.
Learn New Life-Long Skills
Most children don't have ski boats, canoes, kayaks, sail boats, horses, lakes, trails, and the multitude of activates offered at camp available to them at home. Camp is a great place to learn skills kids otherwise would never get to experience.
Gain Self Confidence
With great instruction and the caring encouragement of camp counsellors many kids master skills they would have never thought possible thereby opening the doors to undertaking and succeeding with challenges that they will need to overcome in their lives.
Escape distractions and re-focus
Life can be complicated and may kids are weighed down by problems they can't escape. Camp provides an opportunity to put life's burdens aside, have fun, refocus, and hopefully gain a new perspective and new outlook on life.
Have an Adventure
Leaving home, parents, family, and everyday life and experiencing the fullness of camp community and activities is an adventure that will often dramatically change kids for life.
Get Closer to God
Daily Bible studies and gifted speakers will bring God's Word alive along with small cabin group opportunities to challenge, share, and apply the spiritual lessons each day.
See Christian Community in Action
At camp Christian living is reflected in the lives of a summer staff made up of dynamic young Christian adults who demonstrate their faith daily through the caring relationships they build with other staff and campers. Often, this is how the gospel is most effectively communicated.
Camp Research Project: Purpose, Findings and Practical Applications
The Canadian Camping Association, as a federation of camps across the country, is experiencing a variety of challenges: rising costs, shrinking youth market share, increased government scrutiny and regulation, and risk management issues.
Validated research is a powerful instrument for addressing and protecting this common interest because today more than ever before there is a vital need to back up our claims with evidence based research.
We now possess authoritative confirmation of our industry's value through the findings of the CCA/ University of Waterloo (UW) "Canadian Summer Camp Research Project." The next steps are to now effectively broadcast this information, keep it in the public view, and to put it to practical purposes.
The research proved that camp provides development in five key areas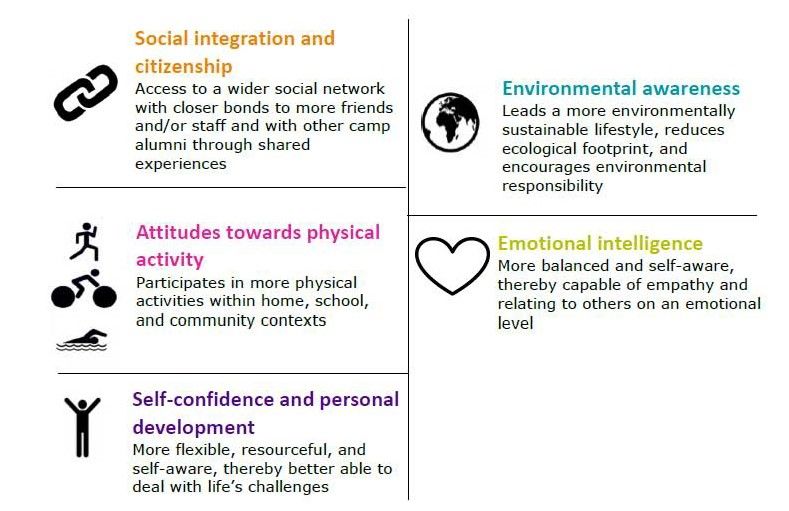 Additionally, in the
survey of over 1400 parents from across Canada
, the overwhelming (or statistically significant) response was that lessons learned at camp successfully transfer from the camp environment to home, school and neighbourhood settings. Parents reported that they saw either a change for the better or an enhanced and continuing positive attitude in their children.
– By Dr. Stephen Fine, CCA Research Chair